We would like to thank YVS Chowdary who gave the logo of his prestigious Okka Magadu first to idlebrain.com. The logo has not appeared anywhere else. It will come in other media (mags, newspapers, TV channels and other websites) on the eve of Vijaya Dasami tomorrow (21 Oct).
Here is the logo of Bala Krishna - YVS Chowdary's much awaited film Okka Magadu. This logo is designed by Dhani Aelay. Simran, Anushka and Nisha Kothari play female leads. There is lot of craze for this film as Okka Magadu is directed by YVS Chowdary who is an ardent and passionate devotee of Nandamuri Taraka Rama Rao.
Bala Krishna Nandamuri is conferred with the title 'Viswavikhyata Nata Tejoroopam' by TANA. This title appears for the first time in the titles of Okka Magadu film.
The beautiful painting texture of the logo is unique. What makes this logo different one is the fact that the tagline 'One and only' does not come as tagline, but background to the logo in matrix logo format. In film too a matrix kind of 'one and only' text will be displayed during the title cards.
YVS Chowdary is well known for his knack of selecting heroines whose magnetic appeal can draw in the masses. His discovery Ileana is today, the most sought after heroine in Telugu film industry. After the announcement of his new project Okka Magadu (with the combination of Bala Krishna and YVS Chowdary), everyone is curious about the identity of his heroine. Here is YVS Chowdary answering the question on everyone's lips.
The title of the film Okka Magadu (the one and only) was inspired by the Okka Magadu compositions created by MM Keeravani and me for the film Seetayya .If you observe the Okka Magadu song, you will notice that it is about a young girl fantasizing all the heroic qualities that she is seeking in one person. Keeravani coined the title 'Okka Magadu' using my description of 'Oka Magadu' for the song. This composition was done in Tirumala during the music sittings of Seetayya.
I felt the title suited the powerful story and subsequently announced the projects Devdadasu and Okka Magadu as Seetayya was nearing completion. The character of Simran in Okka Magadu narrates the qualities she would like to have in her dream man. I have shown NTR in historical, mythological, folk and social dimensions in that song.
I approached Bala Krishna with the subject of Okka Magadu. He agreed after hearing the bare outline of the story. That was unusual because generally the heroes agree only after a detailed narration and script is given to them. It was a pleasant surprise that he agreed without any fuss.
The next task was to cast the right heroine. I am a little choosy about this because often by the time the film is complete the heroine would already have been written about and overexposed, therefore the newness is gone. I like to keep an aura of mystery around them so that there is curiosity. Here is list of Okka Magadu heroines and the reasons why I selected them.
Nisha Kothari: She is the discovery of Ram Gopal Varma and is playing one of the heroines in Okka Magadu. Incidentally this is her first Telugu film. She is a terrific combination of innocence and sensuousness, the face has the first quality and the body has the latter. Nisha has two songs with Bala Krishna in this film.
Anushka: She is one of the top three heroines of Telugu cinema today with a fabulous figure and a beautiful face. She created waves with her filmVikramarkudu. Anushka has two songs with Bala Krishna. Nisha and Anushka jointly have one song with Bala Krishna.
Simran: Simran who performed the Okka Magadu song in Seetayya will do a special heroine role in Okka Magadu. She got married some months ago. Now we will re-intorduce her as a performance-oriented heroine in Okka Magadu just the way Kajol did in the film Fanaa. I am very sure that Simran is going to bag the best actress award with her role in Okka Magadu. I am happy to announce that Simran who paired up with Bala Krishna in 1999 and 2001 to deliver the industry hits Samarasimha Reddy and Narasimha Naidu respectively is acting in Okka Magadu too.
Wait and watch this space for another exciting piece of news on Okka Magadu on next Tuesday (7th November).
YVS Chowdary came back to Hyderabad after completion of canning a solo song on Bala Krishna in temples backdrop of Rayalaseema. He met the scribes to share his experience -
| | |
| --- | --- |
| Date | Town |
| 18 January | Mahanandi (near Nandyal) |
| 19 January | Ahobilam (near Nandyal) |
| 20 January | Ontimitta |
| 21 January | Pushpagiri (near Kadapa) |
| 22 January | Pulivendula |
| 23 January | Tadipatri |
| 24 January | Lepakshi (near Hindupur) |
We started the shooting of our prestigious film Okka Magadu on 14 December 2006. I always wanted to do a song in which a mass hero is presented the way fans wish him to see. We have taken special permission from archeological department to shoot a song in temples that were never exposed for any film shootings so far. We went there with 400 unit members.
We expected huge turnout of crowds in Rayalaseema. But the real turnout turned out to be far beyond our expectations. At the same time, the fans and movie lovers were very cooperative and friendly. People from all segments (youth, masses and elders) came to the shoot. I saw tears in eyes of elder citizens when they saw Bala Krishna waving at them.
Rally in Pulivendula
We had a huge rally from Putti Sreeramulu center in Pulivendula. Huge crowds graced the occasion and they were all thrilled at seeing Bala Krishna.
Karnataka fans too:
Fans from Karnataka came to see Bala Krishna in Lepakshi.
About Lathi Charge:
When we requested the police department, they gave us 100-120 cops to make sure that shooting goes on smoothly. Just to control the crowds, they did mock lathi charge without laying the stick on fans.
Songs schedules:
1. We shot 'Devadhideva' song from 18 to 24th of this month in Mahanandi, Ahobilam, Vantimitta, Pulivendula, Pushpagiri, Lepakshmi and Tadipatri. Amma Rajasekhar composed choreography.
2. We will be going to Australia to shoot a song on Bala Krishna and Anushka from 29th of this month. Brinda will choreograph this song which will have Okka Magadu as keyword.
3. After seven days, we will go to Malaysia to shoot a song on Bala Krishna and Nisha Kothari. Amma Rajasekhar choreographs this song.
YVS about Okka Magadu music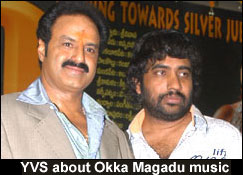 I am a huge fan of K Raghavendra Rao since my days in Gudiwada as president of NTR fans association. I also started K Raghavendra Rao fans association and corresponded with him regularly. People go to theatres just to watch songs of K Raghavendra Rao's films. I am hugely inspired by him. Listening to his songs enhanced my love for music. Lucky I joined K Raghavendra Rao as assistant director and it gave me lot of scope to song picturisation because I observed K Raghavendra Rao's work from close quarters.
My song picturisation was always appreciated right from my first film Sri Seeta Ramula Kalyanam Chootamu Rarandi to Devadasu. I have created my own style in unusual song picturisation. I did four films with MM Keeravani, who is my all time favorite music director. Ramana Gogula composed extraordinary music for Yuvaraju. Chakri gave chartbuster music for Devadasu, which ran for 175 days in 17 centres.
When music has become such an important ingredient of film's success, I take extreme precautions while signing a music director. Mani Sharma is an excellent music director with great specialisation in keyboard. He is also exceptionally good at re-recording and background score. He has delivered industry hits with almost all leading heroes of Telugu cinema. His music caters to classes and masses alike. Mani Sharma has given extraordinary music for Okka Magadu. He has already composed six songs out of seven songs for Okka Magadu. For a high profile film like Okka Magadu, it is very important to have music that gives an instant kick. The music of Okka Magadu is going to be huge chartbuster. You don't have to listen 2-3 times to decide how songs are. One listening is enough to judge how good Okka Magadu songs are. After working with Mani Sharma, I realised that he has excellent grip on tunes, orchestra and rhythm. Okka Magadu music will surpass the music composed for all my six films.
Hats off to Mani Sharma!
Details of 7 songs in Okka Magadu:
2 songs – Bala Krishna & Anushka
2 songs – Bala Krishna & Nisha Kothari
1 song – Bala Krishna, Anushka & Nisha Kothari
1 song – Bala Krishna & Simran (sentimental number)
1 song – Bala Krishna solo song: I never had opportunity to work with my idol NTR. The introduction song with Bala Krishna is going to be the result of what I would do if NTR were doing a solo song in my film.
Okka Magadu

song schedule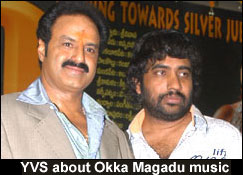 Regular shooting of Bala Krishna's latest film Okka Magadu was started on 14 December in Hyderabad. YVS Chowdary is producing and directing this prestigious project. The next schedule will take place in Rayalaseema (Bala Krishna's bastion) from 18th January. A song will be shot on Bala Krishna amidst the crowds of Rayalaseema. Here are the schedules of that song
| | |
| --- | --- |
| Date | Town |
| 18 January | Mahanandi (near Nandyal) |
| 19 January | Ahobilam (near Nandyal) |
| 20 January | Ontimitta |
| 21 January | Pushpagiri (near Kadapa) |
| 22 January | Pulivendula |
| 23 January | Tadipatri |
| 24 January | Lepakshi (near Hindupur) |
Okka Magadu

unit

in

USA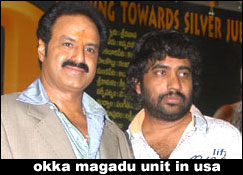 YVS Chowdary has made three announcements about Okka Magadu so far. The first announcement was that Okka Magadu would feature the combo of Bala Krishna and YVS Chowdary. The second announcement was about the pooja held in Annavaram. The third announcement was about the heroines of Okka Magadu. These three announcements evoked considerable excitement and curiosity. Predictably, movie lovers (especially Nandamuri fans) are eagerly waiting for more information about the film. Here is another snippet about Okka Magadu courtesy YVS Chowdary over the phone from USA –

"The craze for this film is unprecedented. It places extra responsibility, as every department has to be handled with great care and precision. I want to build up pre- release hysteria. I want to show Bala Krishna in an entirely new light on the screen. I will not limit myself to any particular fixed budget for this film. Senior most publicity artist Eeswar has made sketches on the special get-up of Bala Krishna. We came to LA, USA on 1st November. We are consulting Hollywood make-up artists in LA. We will stay here for another week and during our stay we will finalise the get up of Bala Krishna and Simran. I am sure this new make-over will enchant the classes, family crowds as well as the youth. You won't believe what we have up our sleeve till you see it. So keep the seat belts fastened in excitement and wait for take off! See you in Hyderabad on the 15th of November."

Details about the music of Okka Magadu courtesy YVS Chowdary next Tuesday (7th November 2006) bulletin.