Saturday, July 14, 2007
Once in a speech he said that he takes two pegs everyday on doctor's advice. He was never addicted to it but very conservative in consuming on medical prescription. ANR is not at all touching whisky. He sticks only to Napolean Brand Brandy. He is a regular consumer of alcohol in a very moderate level (not more than 1 and half peg).
ANR is 83 and still healthy for various reasons. His body constitution is strong (only draw back is that he undergoes blood transfusion frequently-in fact that proved to be another health secret for him), he never knows financial burdens, he has been breathing the success and enjoying respect and celebrity status in society, he keeps himself cool, he regularly walks in the morning without fail, his children and grand children are well settled, he believes only in home food, he takes very hygienic and protein food, he is very practical in thinking and hardly gets carried away by sentiments and superstitions. And above all he feels he is young all the while.
That is the secret of his life despite underwent by-pass surgery in 1974 and an attempt to Open Heart Surgery in 1988.
Posted by Telugu Film News at 4:26 PM 2 comments  

Links to this post
Labels: ANR
Friday, July 13, 2007
Namita reduced her weight for about 10 kgs in recent times, she says. But the observers are saying that is not evident in uniform manner. They make it clear saying that she is looking more feminine with heavy assets while her tummy is tucked in now. So, it's just the fat around the equator that was burnt down, which came to 10 kgs.
Obviously she is no way inclined to cut down her heaviness with respect to feminine assets as that is her USP.
Namita says that two of her colleagues in Kollywood advised her to cut down that fat and they are Ajith and Vijay.
Posted by Telugu Film News at 8:23 PM 0 comments  

Links to this post
Labels: Namitha
The ongoing Presidential elections have provided an excellent opportunity to Union Minister of State for Women Development and Child Welfare Renuka Chowdary to get closer to Madam Sonia Gandhi and overshadow her colleague from Andhra – Daggubati Purandareshwari, who had hitherto been the blue-eyed girl of the madam.
When the Bharatiya Janata Party pitched its trump card Sushma Swaraj to campaign for NDA-backed candidate Bhairon Singh Shekhawat and attack UPA candidate Pratibha Patil by digging out various scandals against her, the Congress found a better choice in Renuka to counter Sushma. And Renuka grabbed the opportunity with both the hands. In her two press conferences, Renuka effectively handled the allegations against Pratibha and launched a scathing attack on Sushma and her brigade. Her command in English as well as Hindi came in handy and the national media gave her a lot of coverage, which restored the prestige of the UPA.
Obviously, Sonia is very much pleased with Renuka's performance. Indications are that she might promote Renuka in the party and give her the much sought-after AICC publicity incharge post, which was held by Sonia's close aides like Ambika Soni and Priyaranjan Das Munshi.
Posted by Telugu Film News at 8:23 PM 0 comments  

Links to this post
Labels: Purandareshwari, Renuka
It's really grand news to note that Ramayanam is going Hollywood . Uru Patel, an NRI is producing this film on large scale win which Lord Rama is going to be portrayed by Matrix fame, Keenu Reeves and Sita by Shilpa Setty. Asim Merchant is being considered for the role of Laxmana which si yet to be confirmed. The film is going to be centered on 'Hanuman' where the actor to play this role is yet to be finalized.
There were many Greek and Roman mythological films made on various Hollywood banners but the Hindu mythology hasn't touched till now in big way. Although there were a few references to the scenes in the films like 'King Solomon's Islands ', they were made with ignorance and lack of proper knowledge. In the film 'King Solomon's Islands', the idol of Nataraj was shown as evil spirit. There was no big check on it in those days and it went unnoticed by many. There would be few such scenes in Hollywood films of the past. But now with a motive to spread the moral grandeur of Ramayana, Uru Patel is making this attempt that should be appreciated.
Let us see what people say about this Indian attempt on Hollywood for showing Ramayana.
"It is good to know about this. The present day kids are aware of Harry Potter and Spider Man but hardly know about Indian epic heroes. The best medium to show them is Cinema. The kids are not comfortable with old mythological films but they want something trendy. So Hollywood proves to be the right platform. If the film is made in international standards, kids may forget Spider Man and others and switch over their favoritism to Hanuman. It is not just for Indian kids but internationally also", says Ramadevi, an Elementary school teacher.
"Ramayana runs with more fiction than that of Greek Mythology. That would certainly entertain kids. But at the same time logic has to be maintained while canning in some scenes to convince the elders who expose to this epic for first time. If fiction dominates the film, people may turn down. Today many are looking out for more reasoning and not compromising with whatever is being shown. So the script work should be target oriented. If targeting the kids, it can be like Narnia or if it is for elder groups then it should be like Wolfgang Peterson's ' Troy'", says Ajay Raju, an Assistant script writer of Telugu films.
"Troy popularized the Roman mythology across the world. The crispy way of making the film appealed for all word wide and Indians enjoyed it a lot and learnt the characters and their behavior as well. Same opportunity is to be given with Ramayana and characters in it as well", says Surender Kumar, a distributor.
Let us see how far our mythology makes its way in international film world.
Posted by Telugu Film News at 7:12 PM 0 comments  

Links to this post
Labels: Hollywood
The Indian premiere of 'Harry Potter - the order of the phoenix' was held at Prasads IMAX screen at 9 am on 13 July. Anam Ram Narayan Reddy, the minister of Cinematography and tourism for Andhra Pradesh attended this premiere.

Speaking on the occasion Ramesh Prasad of Prasads said, "This film generated very good interest among the children. Millions of the books were sold prior to the film release. Most of the children in theater starts anticipating dialogues and scenes as they have already read the book. The children are thrilled watching the 3D effects in the largest 3D screen in the world - Prasads that is. Earlier version of Harry Potter created the world record in terms of attendance. I hope that this film too would surpass that record. Incidentally, Prasads is the only IMAX screen that is screening the 3D version of the film. It will a privilege to the movie lovers in Hyderabad and AP."

Distributor Jagadeeswara Reddy said, "I would like to thank Warner Brothers for giving me the opportunity to release Telugu, Hindi and English version of 35mm format in entire AP and parts of Marathwada. The Telugu version will release in the last of the month. We will be releasing 2ith 35 prints. This film generated tremendous hype among the children by transporting them into a different magical world."
Posted by Telugu Film News at 7:05 PM 0 comments  

Links to this post
Labels: Harry Potter, Prasads IMAX
Some magic at last!
There's magic, and then there's magic.
The real charm of the Harry Potter books, as any Pottermaniac will vouch for, is not so much in the fantastic spells the boy wizard and his friends learn at the Hogwarts School of Witchcraft and Wizardry, but the magic of human emotions.
You don't have to be a fantasy fan to like Harry Potter; the core of the books is closer to P G Wodehouse school stories than Tolkien. That's what the four films before Order Of The Phoenix failed to grasp.
There were special effects galore, but you didn't feel Harry's emptiness every time a school year ended. You didn't feel his goodness, and you didn't grow with him.
As an unashamed Pottermaniac, I am glad to report that the fifth film changes that with a reasonable degree of success.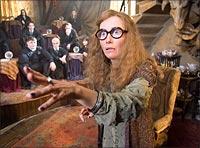 The film opens with a very well-shot episode of two dementors attacking Harry (Daniel Radcliffe) -- now a strapping young lad -- and Dudley Dursley (Harry Melling, not as portly as the books say, but doing pretty good).
And for the first time on film, you feel Harry's dread as he appears for the Ministry of Magic trial for just saving himself.
As all of you familiar with the book know, Order Of The Phoenix's story is about the magical word being split into two -- one half believes Harry and Dumbledore and the other believes the Ministry and its spin doctor, the Daily Prophet, who are out to make it look like Harry is a delusional fool and the Hogwarts headmaster a conniving, power-hungry wizard.
So an utterly horrible witch, Dolores Umbridge (played superbly by Imelda Staunton), is appointed as the new Defence Against the Dark Arts teacher by the Ministry. She wants 'order and discipline' in the school -- like 'boys are not to come within eight inches of a girl' -- and she wants the Hogwarts students not to learn any real magic, but mug up books.
With her cruel laugh and mannerisms, Staunton makes Umbridge almost as evil as the matron in that brilliant movie adaptation of that brilliant book, One Flew Over The Cuckoo's Nest.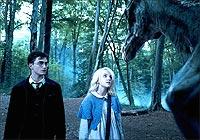 There is more such excellent character acting, like Evanna Lynch as the eccentric Luna Lovegood. You feel sorry for her, just like you do in the books. Everyone thinks she's nuts, and no one wants to let go of a chance to play a prank on her -- like hiding her belongings.
Gary Oldman as Sirius Black shines too, and the bond between him and his godson Harry comes across subtly but clearly, thanks to some great work by Oldman.
Bellatrix Lestrange (Helena Bonham Carter) too is a welcome cameo.
Natalia Tena as Nymphadora Tonks is another example. She infuses magic into her character with about two minutes of screen space.
In contrast, the main gang -- Harry, Hermione (Emma Watson) and Ron and Neville Longbottom (Matthew Lewis) -- are not so consistently good, though they all have grown into better actors. Correction: Apart from Rupert Grint. He is the goofy, awkward, gangly and lovable Ron Weasley to the hilt.
Order Of The Phoenix is visually a treat too, with Hogwarts looking bigger and better -- as it should have all along. Yes, this is what the films should have been like, right from Philospher's Stone.
There are some superb moments like Harry and the members of the Order flying in formation over the Thames, and of course, the climactic showdown between Lord Voldemort -- Ralph Fiennes is evil embodied with just the way he holds his wand -- and the only wizard he was ever afraid of.
And there are a few moments when you feel the emotional quotient of the books -- like when Ron tells Harry, 'You don't have to do this alone, you know.'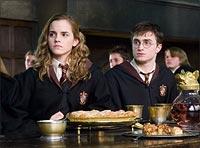 On the downside, there is some bad acting too -- by Uncle Vernon (Richard Griffiths) and Aunt Petunia (Fiona Shaw), most notably. We all know how they fuss over their pig of a son in the books, but when he comes home nearly deranged after the dementor attack, their reaction is far from appropriate. Mrs Figg (Kathryn Hunter) too is a letdown.
There is no chemistry between Cho Chang (Katie Lieung) and Harry, and their much-hyped kiss is definitely not the highlight it was being touted to be.
And my personal grouse is that Fred and George Weasley, two of the finest characters Rowling has created, remain underused, despite their spectacular exit from Hogwarts.
Instead, it's director David Yates who shines with little touches that make a big difference. Like Ginny Weasley looking on wistfully as Harry focuses his attention on Cho.
Order Of The Pheonix is darker than all the previous films (thank god for that!) and moves out from the 'strictly for children' realm. This is adult territory, and delightfully real. The background score also moves up a notch, as do the photography and the locales. The editing, however, is a little jumpy in parts.
But like its predecessors, Order Of The Phoenix forgets completely to dangle unanswered questions in front of the audience, which the books do so tantalisingly.
The magic is also diluted by dialgue at times. You cannot feel the same empathy for Neville as you do in the books when you learn that his parents were driven mad by Lestrange with Neville himself revealing that (one of the many deviations from the book).
Ditto for the battle between Harry and Voldemort where Harry triumphs because he knows the value of love and friendship.
All in all, the fussiest of Potter fans will like this film, because it is a very good movie, and the best Harry Potter movie so far -- by miles.
But it could have been a great one. Sigh.
indfilmnews.blogspot Rating :


Posted by Telugu Film News at 5:14 PM 0 comments  

Links to this post
Labels: Harry Potter Review
Made entirely in the commercial format, this Telugu film stars Kannada superstar Upendra, Raja, Priyamani and Kaamna Jethmalani.
The film begins with the premise Oka abbadam padi saari nijam ante adi nijam vochu. Kaani oka nijam vanda saari abaddam anna athi abaddam kaadu (One lie uttered 10 times as though the truth can become the truth but one truth even if uttered 100 times as though a lie cannot become a lie).
Not everything you see is the truth and you can't see the truth all the time. It's not mind-boggling as it sounds. Basically Toss looks at who are morally right and systemically right through the eyes of its protagonists Neelakantha (Upendra) and Parasuram (Raja). The police commissioner Nayak (Suman) is another main character.
It's a question of the right side or the flip side -- hence, Toss. Parasuram tosses the coin to take the right action -- an act reminiscent of Amitabh Bachchan in Sholay.
The film has parallel tracks -- of Neelkantha (who is a difficult man to contend with on account of his might) and Parasuram (a good man), which sets the pace for the layered narrative. These two converge in the second half and that's where the suspense element comes in.
The police commissioner and another gang led by Sultan are the other characters in this suspense drama. In the first half of the movie one is led to believe that Parasuram and Nayak are good while Neelkantha is the bad guy, till the toss...
In between there is romance brewing between Parasuram and Naina (Priyamani) which complicates matters, more so because Naina is Neelkantha's sister.
Toss has all the usual elements of a commercial film -- action, romance, revenge, brother-sister sentiment (which is the common theme of most Telugu movies in the last seven months), songs, dances, some enforced comedy et al.
So, in essence, Toss is the usual masala entertainer, albeit a tad too confusing at times. There are some areas which are not conveniently explained (for instance one wonders how Neelkantha becomes rich as he loses his parents and brings up his sister on his own).
The movie is slick, with some good CG work. The fact that the movie was shot in high-definition digital camera helps in the colour correction besides post-production. However, there are distractions in the song-dances and the few enforced comedy sequences.
Upendra looks menacing (thanks to his attire and sound effects) as Neelkantha. Incidentally Toss marks his return to Telugu movies after a long gap.
Raja, on the other hand, performs what is expected of him, and is quite convincing as the goodie who is SET (Self Employed Tax as calls himself).
Suman plays the notorious police inspector with his usual conviction.
The women provide the glamour (particularly Kaamna) and display some amount of histrionics.
Mani Sarma's musical score is in sync with the mood -- the only 'melodious song' being Prema Prema...
All said and done, it's the audience who will decide to flip for Toss or not.
indfilmnews.blogspot Rating :


Related Links:

Added 23 More Exclusive TOSS Movie Gallery
Screen Talk: Priyamani In Ranga Panduranga!
Posted by Telugu Film News at 5:14 PM 0 comments  

Links to this post