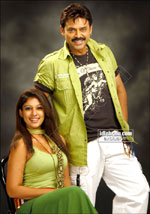 THULASI Business Status as of Oct '04, 2007
Great India films proudly announce that Thulasi overseas business is almost closed except the following few centers. Pls. hurry up to acquire the rights to your respective places if you find your city in the list below.
We Vishnu, Soma & Sudha on behalf of Great India films & Suresh Productions Pvt Ltd express our happiness to share the business status of our movie. The movie is slated for release on Oct 12th, 2007 in record number of centers & Prints in overseas territories.

We are very thankful to one and all i.e. our Distributors, Exhibitors, Friends & Well wishers in achieving these rare feet within one and half month of the movie announcement by GIF. Once again our special thanks to Suresh Babu Garu, Ramanaidu Garu, Venkatesh Garu and staff of Suresh Productions for giving us this opportunity and showing continuous faith on us.

For trade/promotional enquiries contact: info@greatindiafilms.com or
Vishnu -713-446-9638; Soma -916-496-1921; Sudha -732-322-0147

Keep watching this place for more and more stunning records and new about the Grand Endeavour of THULASI in coming days

Sr No
Centre Name
Status
Distributor/Person

1

New Jersey
Open



2

Atlanta
Open



3

Los Angeles
Open



4

Boston
Open



5

Richmond
Open



6

Madison, Milwaukee
Open



7

St. Louis
Open



8

Kansas city
Open



9

Charlotte
Open



10

Austin
Open



11

New York
Open



12

San Antonia
Open



13

Toronto
Open



14

Louisiana & Alabama
Open



15

Singapore
Open



Thulasi Overseas

Closed Centers

Sr No

Centre Name

Status

Distributor/Person

1

Detroit

CLOSED

SriMovies

2

Sanjose

CLOSED

CAcinema

3

Virginia

CLOSED

Gangadhar

4

Chicago

CLOSED

Kodanda Reddy

5

Dallas

CLOSED

Touring Talkies

6

Houston

CLOSED

Maruthi

7

Phoenix

CLOSED

MADHU

8

Delaware

CLOSED

Kumar

9

Denver

CLOSED

Yugandhar

10

Memphis

CLOSED

Kanth

11

Nashville

CLOSED

Kanth

12

San Diego

CLOSED

Vijay

13

Columbus

CLOSED

SriMovies

14

Cleveland

CLOSED

SriMovies

15

Cincinnati

CLOSED

SriMovies

16

Dayton

CLOSED

SriMovies

17

Pittsburgh

CLOSED

Vijaya Bhaskar

18

Tampa, FL

CLOSED

Venkat

19

Orlando, FL

CLOSED

Venkat

20

Miami, FL

CLOSED

Venkat

21

West Palm Beach, FL

CLOSED

Venkat

22

Tallahassee, FL

CLOSED

Venkat

23

Jacksonville, FL

CLOSED

Venkat

24

Poughkeepsie

CLOSED

Kumar

25

Philadelphia

CLOSED

Ravi

26

Omaha

CLOSED

Shiva

27

Australia

CLOSED

Rama

28

UK

CLOSED

SR2

29

Dubai

CLOSED

GIF & MANU

30

Sharjah

CLOSED

GIF & MANU

31

Kuwait

CLOSED

GIF & MANU

32

Muscat

CLOSED

GIF & MANU

33

Abu Dhabi

CLOSED

GIF & MANU

34

Bahrain

CLOSED

GIF & MANU